Was an ISO technical specification for the automotive supply chain. It is now managed by IATF- International Automotive Task Force. Similar to the general requirement to ISO 9001 it also specifically addresses calibration.IATF 16949 calls out the need for the use of ISO 17025 accredited calibration regardless if the calibrations are performed internally or externally.
You may find these articles helpful in understanding ISO/TS 16949 and calibration:
What is the difference between Accreditation and Certification?
The recent changes to ISO 9001:2015 have caused some confusion about how to select a calibration provider.
Does a calibration provider need ISO 9001 certification or ISO 17025 accreditation?
Or both? What is the difference?
ISO 9001 never has and still does not address technical competence. A key distinction between ISO 17025 and ISO 9001 is technical competence. In order to obtain ISO 17025 accreditation a laboratory MUST have a management system that meets the principles of ISO 9001.
This is clearly stated in the introduction: " Testing and calibration laboratories that comply with this International Standard will therefore also operate in accordance with ISO 9001."
While the 2015 revision does address risk management and that certainly includes calibration, it does not address critical areas of technical competence.
These would include: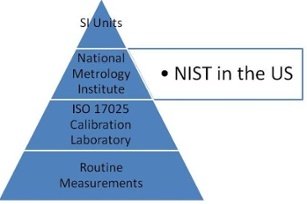 Staff Qualifications

Equipment

Environment

Methods

Traceability

Measurement Uncertainty
ISO 17025 accreditation goes past just having quality management system.As a consumer of calibration one way to access technical competence is to look at the Scope of Accredited services.
The "Scope" articulates what parameters the laboratory has demonstrated technical competence. This are typically shown as the major headings such as " Electrical- Capacitance" or "Length-Hand Tools and Precision Gages". The subheadings would then call out common terms such as caliper, micrometer, Capacitance-source, etc. Specificity of competence is then drilled down by the range of demonstrated competence.
When comparing Scopes of Accredited services, different laboratories may both be accredited for calipers. One may have a range of 0-60 inches while the other has a range of 0-120 inches. This is important to know because one laboratory has demonstrated competence across a broader range. This does not necessarily mean that one laboratory is better or worse than the other.
The Scope will also include Expanded Measurement Uncertainty. It is critical that the consumer of calibration services understands what this means. In simplest terms this is the +/- in a measurement. This really speaks to the suitability/capability of a laboratory to provide you with a meaningful calibration. Example: two laboratories may be accredited for Thermometers. One has a measurement uncertainty of 0.12◦C while the other has 1.0◦C. As the consumer of calibration services you need to know this to determine which laboratory is capable of providing the calibration best suited for your specific needs. Just because a laboratory is ISO 17025 accrediteddoes not mean they are capable of provided the calibration you need.
As pointed out above ISO 9001 does not provide any evidence that a laboratory can provide you with accurate and reliable calibration.
We hope we didn't lose you in the weeds! ILAC- the International Laboratory Accreditation Cooperation has an excellent resource you may want to read.
CQI-9 Special Process Heat Treat System Assessment and Calibration
Section 1.3 of CQI-9 specifically mentions ISO 17025 - general requirements for the competence of testing and calibration laboratories.
Section 3.1 Thermocouples gives clear instructions on calibration.
3.1.2 Calibration of Thermocouples requires traceability of calibrations to NIST or the appropriate National Metrology Institute.
3.1.2.1 requires all thermocouples be calibrated prior to use and calibrated in the range they will be used.
3.1.2.2 requires calibration certificates include actual temperature reading, nominal test temperature, correction factor, who performed the calibration and method used.
3.1.2.3 does NOT allow interpolation for values above or below the actual calibration test points.
Note: This is why it is extremely important to specify calibration ranges on your calibration request and purchase order to your calibration company.
Further instructions are given for Heat Treat System Assessment in Section 3 -Equipment of CQI-9 forms.
"The calibration and certification of the process equipment shall be checked at regular specified intervals."
"Temperature uniformity surveys shall be conducted ..."
CQI-9 Process Table A states:
Process and Test Equipment Requirements
A1.4 Furnace weigh scales shall be verified quarterly quarterly and calibrated annually at a minimum.
A1.5 requires minimum annual calibration of Dewpointers, 3-gas analyzers, spectrometers ad combustion analyzers.
A1.9 requires hardness testing equipment be calibrated at least annually.
A1.11 requires refractometers be calibrated annually.
Pyrometry
A2.3 requires a SAT- System Accuracy Test.
A2.4 requires a temperature Uniformity Study-TUS- be performed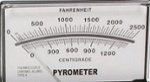 A2.7 Infrared pyrometers shall be calibrated annually.
It is also implicit in meeting customer requirements the all recording devices such as temperature controllers be calibrated.
Table 3.1.1 requires a calibration accuracy of ± 1.1°C process thermocouples.
Table 3.1.2 requires a calibration accuracy of ±0.6°C for primary and secondary standards.
Table 3.1.3 specifies the calibration intervals for thermocouples and what standards be used.
Table 3.1.5 specifies the number of times a thermocouple can be used.
Calibration requirement for instrumentation is specified in CQI-9 section 3.2.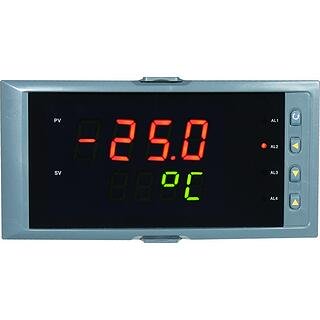 3.2 Instrumentation
3.2.1.1 requires traceability of calibrations to NIST or the appropriate National Metrology Institute.
3.2.1.2 requires that any external calibration be ISO 17025 accredited.
3.2.4 requires calibration of all control, monitoring and recording instruments quarterly unless you perform a System Accuracy Test- SAT- quarterly.
3.2.5 covers everything required on a calibration report/certificate and calibration status sticker.
Calibration sticker/label requirements:
Date the calibration was performed.
Due date of the next calibration.
Technician who performed the calibration.
Serial number of instrument.
Calibration report requirements:
ID number
Make, Model and Serial Number of unit calibrated
Equipment used in calibration.
Method used in calibration.
Temperature & Humidity during calibration.
Required accuracy.
Before and After data (if no adjustment is made then before=after).
Initial and corrected offset/bias
Statement of acceptance - sometimes interpreted as Pass/Fail.
Limitations of calibration if any.
Due date of next calibration.
Technician who performed calibration.
Signature of technician.
Name of calibration source- external company name.
Internal sign-off of calibration results.
3.2.6 Electronic Records
" When using a system that creates electronic records the system shall create write-once, read-only electronic records that cannot be altered without detection."
You should thoroughly review CQI-9 Table 3.2.1 Instrument Calibration Requirements.